Electronics Technician Job Vacancy in Lancaster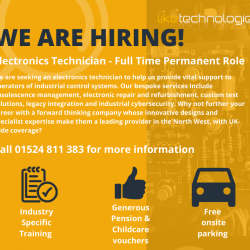 Like Technologies is growing, which means we need to invest in our most valuable asset – our people. Our brilliant team of skilled engineers and support staff work together to make a difference every single day. We are proud of the innovative and inclusive culture we have created here and are passionate about supporting our employees, community and environment.
We are seeking an electronics technician to help us provide vital support to operators of industrial control systems. Our bespoke services include obsolescence management, electronic repair and refurbishment, custom test solutions, legacy integration and industrial cybersecurity. Why not further your career with a forward thinking company whose innovative designs and specialist expertise make them a leading provider in the North West, with UK-wide coverage?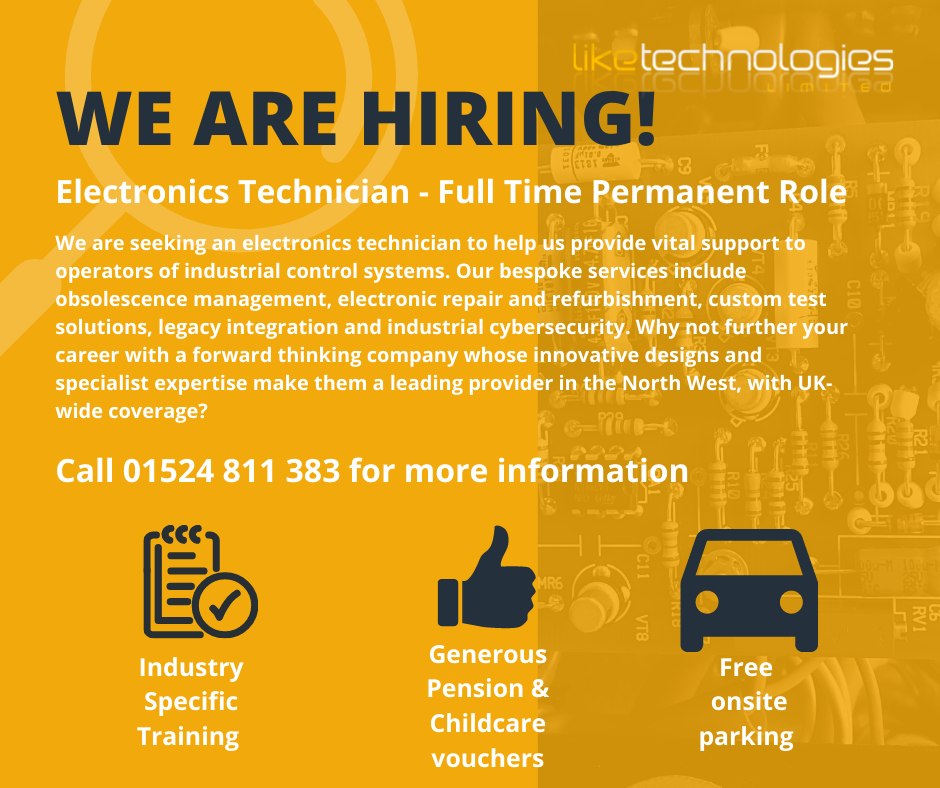 Electronics Technician Essential Duties and Responsibilities
Repairing and testing customer electronic equipment in accordance with specific procedures
Generating repair documentation and maintaining our repairs database
Assisting with preparation of technical documentation
Recording, analysing and interpreting test data
Working with colleagues to assist in designing new systems, circuits and devices or developing existing technology
Liaising between customers, suppliers, visitors and colleagues
Ensuring safe working, plant safety and company practices are followed
Pursuing personal development of relevant skills and knowledge
Keeping up to date with industry developments
Attending meetings and completing project work onsite (when required)
Desired Knowledge, Skills & Abilities
A good level of electronics technical knowledge,
Potential to repair down to discreet component level
Ability to read technical documentation with a keen eye for detail
Innovative and creative but with the ability to follow defined processes
Maintaining professional attendance, time management and personal appearance
Good analytical, strategic thinking, numeracy and problem solving skills
Strong written, oral, listening and diagrammatic communication skills, with the ability to translate complex ideas into clear concepts
Good understanding of Microsoft Office Suite and basic office equipment
Excellent interpersonal skills and ability to work in a multi-disciplinary team
Ability to remain calm under pressure and use own initiative
This role is based at our premises and will require the successful applicant to obtain SC Clearance (please refer to the Government's UKSV website for further details)
Benefits
Competitive salary dependent on experience
Free onsite parking
Early finish on a Friday
Flexibility – please ask about alternative patterns of work at interview stage
Five weeks (25 days) holiday plus bank holidays (increasing on the fourth year by one day per year for five years)
Generous company pension scheme
Industry-specific training and opportunities for professional development
To apply, please email a current CV with a brief covering letter to hr@liketechnologies.co.uk