Electronics Engineer in Lancaster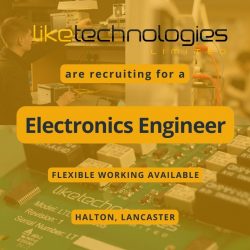 Do you have Electronic Engineering qualifications but haven't found the right company to put those skills to use?
Would you enjoy fault finding, testing, and repairing electronic equipment?
Would you love to work in a friendly close-knit team?
Then Like Technologies is the place for you!
We are a small team of electronic hardware and software engineers based in Halton, near Lancaster, and we are looking for enthusiastic and hard-working people to join us.
We welcome all experience levels, so if you have been out of the electronics industry for some time, we are happy to get you back to speed. We pride ourselves on our in-house training and love to see our employees grow through the mentorship and support of our colleagues.
We are a close-knit company that works with larger organisations within the nuclear industry, so you will have the ability to work on-site and, in our workshop, repairing, designing, and building equipment whilst working within a friendly and supportive team.
What you can expect to do day-to-day:
Repairing and refurbishing the ageing equipment found in power stations
Fault finding down to component level
To build and repair electronic circuit boards
Some opportunities to design and build test equipment and systems
Variety of work
Encouraged to learn on the job rather than being told what to do
The people
The managers are approachable and straight talking
Trusted to work flexibly.
The details you need to know:
25 days holiday plus bank holidays (increased on the fourth year by one day per year for five years)
Finish at 3pm on a Friday
Flexibility – please ask about alternative pattens of work at interview stage
Free on-site parking
Based just off the M6 at Lancaster in Halton (no traffic jams!)
As you will be working within the nuclear sector you will be required obtain security clearance (SC).
If you are interested in working at Like Technologies please email your CV to sally.johnson@liketechnologies.co.uk