Obsolescence is an inevitable and growing threat within many UK industries. Here at Like Technologies, we understand the challenges and pressures our customers face. We provide comprehensive solutions to the problems associated with the ageing of specialist control and instrumentation equipment and components in safety-critical environments.
What is obsolescence management?
Obsolescence management refers to the process of planning the life-extension and replacement of obsolete parts and systems as they age. Obsolescent parts or resources are those which are unavailable from their original manufacturer (OEM) even though they are still needed.
How we can help you to create an effective obsolescence plan
Addressing obsolescence is too often carried out in a reactive manner, which doesn't always provide the best or most cost-effective results. Early identification of issues allows a much wider range of resolutions and reduces downtime. It's important to consider the life span of all components of complex systems and create a plan to deal with obsolete parts as they age.
We follow a proactive and structured obsolescence management approach to quickly identify customers' needs and provide tailored technical support solutions. Our solutions target key priorities such as safety, cost reduction and reliability. They are often designed around unique or specialist plant, equipment and environments and can be seamlessly integrated into existing systems, minimising impact or disruption.
We can help you to:
Introduce technological upgrades, mitigating risk
Improve system and component performance
Identify the most cost-effective solutions for mitigation
We refurbish legacy systems where possible, re-engineer them where necessary and future-proof hardware to keep the wheels of industry turning. You can rely on us as your trusted obsolescence solutions partner, helping you to take back control.
We're experts in obsolescence strategy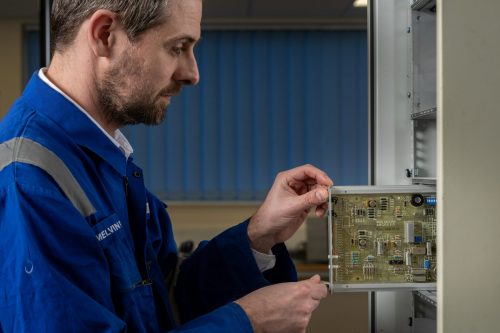 We have developed a wide range of services including solutions and specific tools to solve technical issues related to ageing and obsolescence of technologies. Our team of highly skilled electronic and software engineers have proven and long-standing field experience, helping our customers to achieve greater performance, safety and reliability of essential assets while reducing operating costs.
We specialise in working to the highest standards with assets which are fundamental to the safety and viability of the systems they support. Our customers rely on the professionalism of our continuously trained teams and rigor in the manufacturing, inspection and maintenance we carry out, all in accordance with strict regulations.
Work is completed to timescales dependent on plant availability. When providing pricing for project work, we establish links between projects and offer cost savings where possible. We also provide feedback on possible efficiency savings based on our knowledge and experience.
Our core obsolescence management capabilities
Full obsolescence review service right down to individual component level
Detailed assessments of assemblies or printed circuit boards (PCB)
Re-engineering, re-manufacturing and reverse engineering services
Complete reverse engineering solutions ranging from schematics to assembled modules
Generation of test routines, site installation and commissioning procedures
Embedded software engineering and development
Project management - strategy, plans, processes and technical data
On-plant/on-site customer assistance, maintenance and support
Expertise with analogue and digital electronics, safety-related control and instrumentation equipment, plant and systems
Our obsolescence capabilities in action
We have worked with EDF Energy since 2006 to mitigate the issues surrounding ageing plant equipment. We support the life-extension of their current fleet of advanced gas-cooled reactors by delivering high quality evaluations, assessments and refurbishments.
EDF is Britain's biggest generator of zero-carbon electricity. Read on for an example of how we are helping them to solve complex challenges in the nuclear and power-generation industries.
The Post Trip Monitoring Mimic Lamp
EDF engaged Like Technologies to select, substantiate, install and test replacement lamps and holders on Post Trip Mimic panels. We were selected for the project due to our proven track record of delivering robust solutions for EDF.
During our review process, we determined that commercial, off-the shelf replacements were unsuitable for this application. Our solution was to replicate the mounting method with a re-designed mounting and wiring arrangement. Using samples removed from the existing PTMM panel, we produced dimensional drawings of all parts.
We then manufactured a prototype for factory acceptance testing (FAT). The design, development, build and testing stages of the project were very successful, allowing us to deliver a re-engineered fully tested prototype to enable future production runs.
"Like Technologies' work has brought real operational benefit and achievement in supporting the on-going low carbon electricity generation at Heysham 2 Power Station."
Martyn Butlin
EDF Energy External Communications Manager – Generation
We are always keen to speak to new organisations where our expert obsolescence management services can provide bespoke, value for money solutions. Get in touch today by visiting our contact page or calling us on 01524 811383.