Industrial electronics
and software solutions
Our expert knowledge empowers our clients to keep the country's lights switched on and the wheels of industry turning.
Like Technologies provides vital support to operators of industrial control systems, and specialises in electronic engineering and computer-based systems.
Leaders in industry, including in the nuclear and power generation sectors, rely on our team of skilled engineers. We extend the functional life of plant equipment by providing unique electronics and software solutions, meeting regulations and minimising risk. Our innovative designs and specialist expertise make us a leading provider in the North West, offering UK-wide coverage.
Our focus is on safety and improving your organisation's efficiency, reducing costs and saving you time. We offer bespoke services in the following three areas:
Custom Test Solutions
Our custom electronics test solutions are expertly designed and built to our clients' exact specifications, ensuring maximum efficiency. This collaborative process begins when you tell us what you need to test. After careful consideration we will propose and specify a solution, which we will then jointly agree on with you. Our technologies and specialist hardware ensure that building and delivery meet your organisation's goals, providing cost and time benefits.
Industrial Electronic Repair and Refurbishment
We have comprehensive repair capabilities that are suitable for any industry, and which ensure minimum impact to business continuity. Our industrial electronic repair and refurbishment services include diagnostic reporting to identify the point and reason of failure. We can provide emergency fast turnaround repairs, as well as material analysis and selection. A 12 month warranty is offered on all repairs.
Obsolescence Management
Obsolete systems and components can cause huge problems when spare parts are unavailable. By assessing your systems and predicting which components may become obsolete, you can stay one step ahead and have solutions ready. This will reduce downtime and safeguard your organisation's reputation.
Like Technologies follows a structured obsolescence management approach, providing individually tailored solutions. We understand the time and cost implications to our clients and provide advice on the safest and most suitable courses of action. Solutions include: Item Equivalency Evaluation (IEE), equipment qualification, re-engineering, reverse engineering and even total system replacement. We also develop software solutions using modern touch screen devices to implement like-for-like replacements of legacy hardware devices.
With our experience in highly regulated environments, we are confident that we can become your trusted obsolescence solutions partner.
How can we help your organisation?
Take a closer look at the services we offer, which cover the whole project lifecycle, including:
Plant walkdowns
Requirements specification writing
Optioneering reports
Detail design and design substantiation
Manufacturing cubicles, enclosures, panels and frames
Factory acceptance testing (FAT) and site acceptance testing (SAT)
Installation
Commissioning
Documentation and lifetime quality record (LTQR)
Our specialist obsolescence management services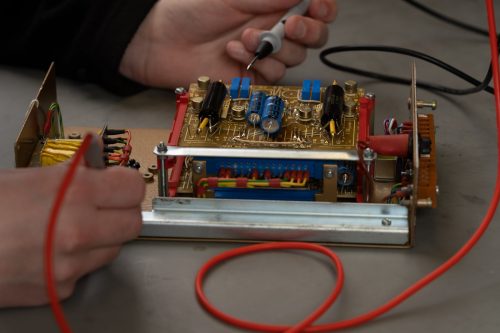 Suitably qualified and experienced person (SQEP) and control and instrumentation (C&I) engineering resources at engineer and technician level
An expertly-managed supply chain of supplementary design and manufacturing services
Design capabilities for components, systems and sub-systems
Printed circuit board (PCB) reverse engineering
Expertise with analogue, transistor–transistor logic (TTL) & complementary metal–oxide–semiconductor (CMOS)
Working with appropriate rigour (WAR)
Access to EDF's management systems, site contacts and unescorted site access
Knowledge of plant and systems
Item equivalency evaluation (IEE) authors
We are always keen to speak to new organisations where our expert technical skills could provide bespoke, value for money solutions. Get in touch today by visiting our contact page or calling us on 01524 811383.