Electech in Morecambe Bay and South Lakeland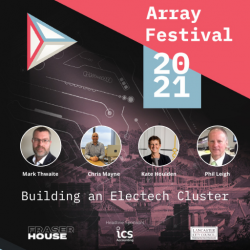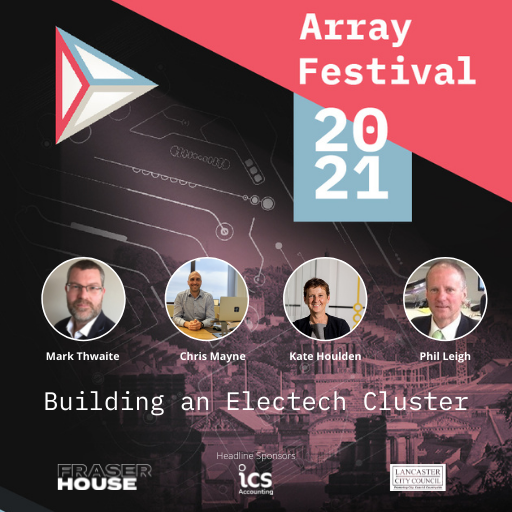 Telling our story at Array Festival Lancaster 2021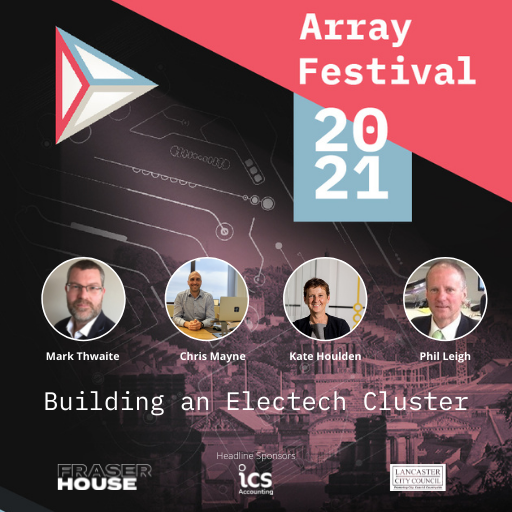 Morecambe Bay, Lancaster and South Lakeland form a thriving hub of Electech activity. Geographically central in the UK, this area has a long industrial heritage of increasingly high-tech industries. It hosts world-class universities, along with local companies offering global expertise in exciting and diverse sectors such as energy, nuclear and marine technology. It is vital to both the UK's economy and the Government industrial strategy.
Like Technologies was delighted to be invited to participate in Array Festival 2021, to take part in a conversation about Electech. Our Managing Director, Kate Houlden, participated in a panel discussion around the benefits of building a local Electech cluster and was also interviewed in an inspirational 'Entrepreneur Story' feature.
What is the Array Festival?
The 2021 Array Festival was designed as a summit-style celebration of Lancaster's innovation, digital and tech story. The festival's aim was to showcase the incredible enterprise taking place in the Lancaster region. This year the focus was on recovery from the Covid-19 pandemic and levelling up.
The festival was held on a hybrid basis utilising the latest technology. It was broadcast live from Fraser House in Lancaster from the 17th to the 20th of May. The focus on the opening day was Electech.
What is Electech?
A more in-depth description of Electech can be found by visiting the Innovate UK section of the GOV.UK website or our earlier Electech blog post but basically, it is the 'enabler' of all things digital. Electech is the hardware and embedded software which underpins the digital technology driving innovation.
During one of the festival's panel discussions, Matt Chamberlain of the OTAQ Group described it as, "the technology behind the screen".
Electech in our area
The Array Festival has provided the opportunity to shine a much needed light on the innovation taking place in the wider Lancaster area. This will help both the general public and policy makers to understand how they can best support such an important sector, which generates such massive value for the UK.
Matt Chamberlain was joined by Rich Grant of Milliamp Technologies and Natasha McCrone of Rinicom to form a panel to discuss Electech and our local area. When questioned by the panel host, Mark Thwaite, Rich Grant outlined how the Tech Lancaster organisation is addressing the electronics skills gap and meeting recruitment challenges. This electronic skills programme has been a great success with 65 participants graduating with professional qualifications, forming a new local pool of talent.
An Electech Innovation Cluster for the Morecambe Bay and South Lakeland area
The afternoon session of 'Electech day' at Array Festival 2021 featured our Managing Director, Kate Houlden, Chris Mayne of Forsberg Ltd. and Phil Leigh from RTC North. This panel was also hosted by Mark Thwaite. It focused on the need for a collective voice for SMEs in our area.
The newly created Electech Innovation Cluster will bring together companies with a common purpose to attract talent, collaborate, innovate and provide procurement opportunities, while bringing social and economic benefits to the area.
Phil Leigh talked about the benefits of building links between SMEs, universities, North West business leaders, local enterprise groups and town and county councils. Kate Houlden expanded on this further by explaining the benefits of sharing knowledge with other businesses with the same challenges.
The focus was described as working together to obtain bigger contracts by accessing supplier frameworks, navigating supply chains and tapping into university resources. The cluster's vision is to break down barriers so that it is easier for local businesses to succeed, while providing access to business support, finance and research partners and resources.
Like Technologies' role in the Electech sector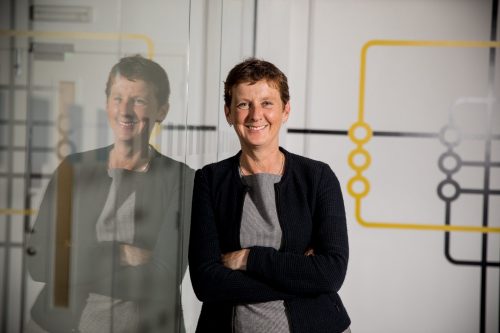 Like Technologies' Managing Director, Kate Houlden, said:
"We are so proud to be part of the UK's innovative and enabling Electech sector and are working to ensure this world-leading sector excels in our local area. We have big ambitions to partner with other local companies, improving economic output, attracting investment and creating high value jobs.
I would like to thank Dan Knowles and the whole team at Array Festival 2021 for putting on such a fantastic event. It was a privilege to take part in an initiative which provided so many benefits to the local business community and the Lancaster area in general."
If you would like to learn more about the innovative Electech solutions we can offer, please don't hesitate to get in touch via our contact page. Alternatively, please feel free to call a member of our friendly team on 01524 811383.