Merry Christmas from Like Technologies!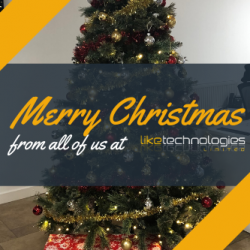 After a fun filled day in the Like Computing and Like Tech offices we are off to let our hair down at our Christmas do!
Today is a celebration for the whole team, a chance to relax and get ready for the Christmas holidays. We have hosted a raffle with huge prize draw, some fun Christmas party games and of course enjoyed a mince pie or two!
In the spirit of Christmas, all the proceeds raised from our raffle and games will go to Lancashire Youth Challenge our chosen charity for the last few months of 2019.
We are extremely proud of our team this year and would like to wish everyone a very Merry Christmas and successful 2020!
Update 02/01/2020- We are pleased to announce we raised £110.50 for Lancashire Youth Challenge!