Like Computing has a new website!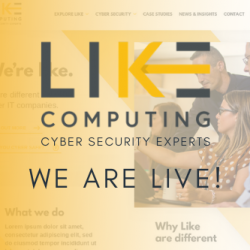 This week our sister company Like Computing launched a brand new website. The Cyber Security arm to our business launched the new site to give us a fresh new look and to demonstrate what we do in a clear and concise manner.
Like Computing was launched out of the need for better Cyber Security for small businesses and we pride ourselves on our honest and approachable consultants and ability to make top level cyber security services available to SMEs.
Take a look at the new site by clicking here.