Human Rights and Modern Slavery Policy
Like Technologies Ltd is committed to the highest levels of ethical standards supporting and recognising the provisions of the Modern Slavery Act 2015 and conforming to all existing legislation with regard to;
•             slavery, servitude and forced or compulsory labour;
•             human trafficking;
•             exploitation.
This statement is to demonstrate that the Company is observant of Human Rights and has taken steps to ensure Modern Slavery is not taking place within:
·      Any part of its own business:
1.    Like Technologies provides high value Legacy IT solutions, conducting 100% of its productive business within the UK with staff who are either UK nationals, or those who have a right to work in the UK evidenced by appropriate paperwork in the form of original documentation. Contractor usage is insignificant within the business. The risk of Modern Slavery is considered minimal.
2.    The business complies with all current employment legislation including, but not limited to, the minimum wage and working time directives.
3.    The Company's Handbook specifies the rights of staff to work in a safe environment of equal opportunity, free from bullying or harassment. The company also sets out procedures to address grievances promptly and impartially and to protect the rights of anyone who may have reason to complain.
·      In its supply chain:
1.    An analysis of the business's suppliers by value has been conducted in November 2018:
i.            93% of company's cost base is UK, 3% EU and 4% US.  The business does not believe the supplies are sourced with significant exposure to issues of Child Labour, Modern Slavery or Human rights.
ii.            The business has not identified exposure to suppliers that offer services based on minimum wage / lowest cost provisions where tight deadlines and large orders may encourage employers to exert undue influence on its staff.
The company is committed to continually improve performance measures, controls, provision of resources and training of employees.
This policy is available to all staff within the organisation.
Signed: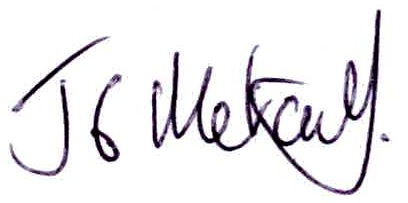 Position: Finance Director
Date: 01/11/2019